There is no doubt that bagging, random forest and boosting all improve the classification accuracy of a single tree. For the comparison among them, the random forest and the boosting method are effective in reducing the correlation between the different classification trees, and their effects are superior to the bagging method. The following figure shows the error comparison between bagging and AdaBoost on a certain classification problem. With the increased number of classification trees, their classification errors gradually converge, and the error of AdaBoost is obviously lower than that of bagging.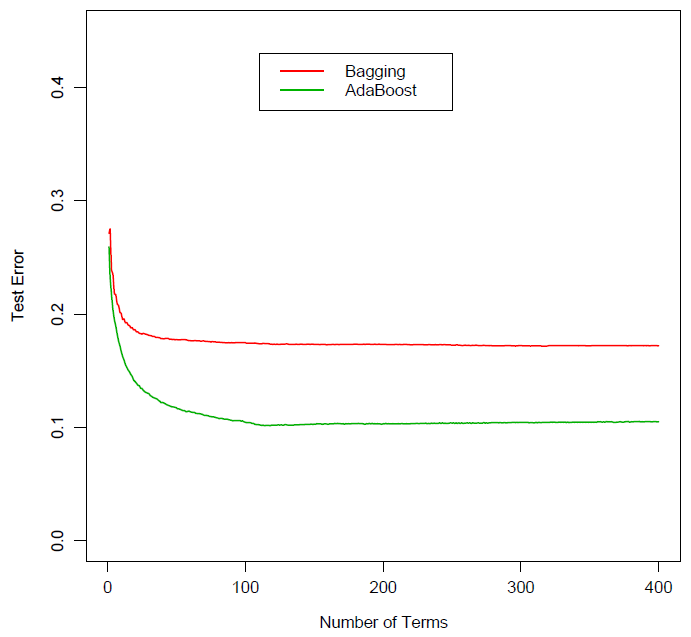 However, there is still a debate over which one between random forest and boosting is better. Some scholars believe that boosting is better than random forest, while Breiman, the inventor of the latter, points out that random forest is superior than boosting. Judging from the results of a large number of industrial problems, these two methods are both excellent classification algorithms, and their effects on many problems are comparable to those of neural networks and support vector machines.
References
Breiman, L. (1996a). Bagging predictors. Machine Learning Vol. 24, 123–140.

Breiman, L. (1996b). Heuristics of instability and stabilization in model selection. Ann. Statist. Vol. 24, 2350–2383.
Breiman, L. (2001). Random forests. Machine Learning Vol. 45, 5–32.
Breiman, L., Friedman, J.H., Olshen, R.A., Stone, C.J. (1984). Classification and Regression Trees. Wadsworth, Pacific Grove, CA.
Freund, Y., Schapire, R. (1996). Experiments with a new boosting algorithm. In: Saitta, L. (Ed.), Machine Learning: Proceedings of the Thirteenth International Conference. Morgan Kaufmann, San Francisco, CA.
Hastie, T., Tibshirani, R., Friedman, J. (2001). The Elements of Statistical Learning: Data Mining, Inference, and Prediction. Springer-Verlag, New York.
Sutton, C. D. (2005). Classification and Regression Trees, Bagging, and Boosting. In Rao, C. R., Wegman, E. J., Solka, J. L. (Eds.), Handbook of Statistics 24: Data Mining and Data Visualization, Chapter 11.